-
As schools return, the delivery of Physical Education & School Sport begins, in a new and different way. The team have collated useful resources and other information and ideas to support this return, to help find ways to enable every child to be active for at least 30 minutes within the school day.
Indoor Activity
We understand that as we head further into the Autumn term the weather will become more adverse which will make it more difficult for safe activities to go ahead outdoors. Where possible continue to prioritise use of your outdoor spaces but on occasions where this is not possible take a look at some of the websites & resources outlined here. They offer some great ideas for activities that can take place indoors, in a sportshall, gymnasium or classroom.
Free access to cross curricular resources for pupils aged 5–19.
Children will get active with Team GB and ParalympicsGB. They will find out more about the history and Values of the Olympic and Paralympic movements, & can investigate the science and technology behind sport. Search the resources using multiple filters to find the resource most suitable for the young people you are working with
School Sport
Young people will be missing out on extra-curricular activity at the moment due to the group/ bubble mixing challenges that schools are being faced with. Take a look at the resource below and consider utilising it as a way of delivering school sport & providing young people with some leadership opportunities.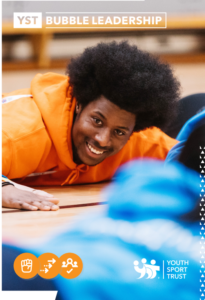 A concept designed by the Youth Sport Trust for all schools. It aims to support, encourage and motivate pupils to take part in sport, physical activity, and play opportunities within the parameters of the Government's Covid-19 return to school guidelines. It also aims to facilitate peer leadership within bubbles allowing young leaders to use their skills to support and empower other young people in a new & challenging context